Postcards & Trade Cards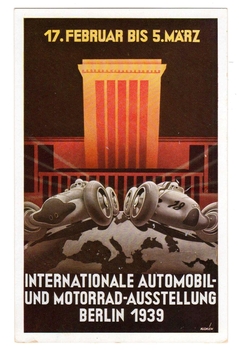 Postcard Berlin 1939 Auto Show #6886
Price: $125.00
Qty:
Add to Cart
Subject: Berlin Auto Show Year: 1939
Artist: Klokien Size: Approximately 3.75" x 5.75"
Condition: Excellent (see description)
Description: Original German postcard with Klokien artist-signed illustration for the 1939 Berlin Automobile and Motorcycle Show. Card is stamped and postmarked with special cancellations for the event. Excellent condition.
Auto-Themed Clothing & Accessories
Vintage Paper Collectibles