Other Paper Memorabilia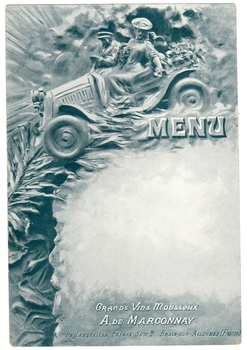 Menu Marconnay Grands Vins Mousseux #16415
Price: $50.00
Qty:
Add to Cart
French Advertising Menu Card
Size: Approximately 5.75" x 8.5"
Condition: Very fine; vertical crease center left.
Description: Single side MENU CARD advertising French wines from A. de Marconnay with automotive illustration. This is an ORIGINAL item circa 1910 printed on card stock. Reverse of card is blank.
Auto-Themed Clothing & Accessories
Vintage Paper Collectibles