Other Paper Memorabilia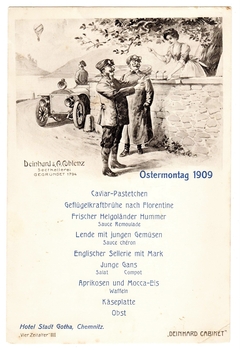 MENU 1909 GERMAN DEINHARD WINES #16607
Price: $125.00
Qty:
Add to Cart
German Advertising Menu Card
Size: Approximately 6.5" x 9.5"
Condition: Very fine; some staining and corner crease bottom right
Description: Single side MENU CARD advertising German wine from Deinhard & Co. with automotive illustration. This is an ORIGINAL item dated Easter Monday 1909 printed on card stock. Reverse of card is blank.
Auto-Themed Clothing & Accessories
Vintage Paper Collectibles