Books & Brochures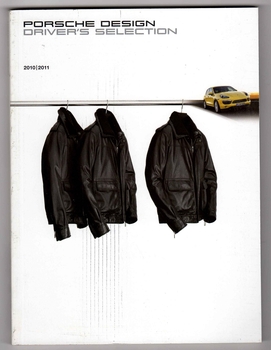 PORSCHE DESIGN DRIVERS SELECTION CATALOG 2010/2011 #16378
Price: $50.00
Qty:
Add to Cart
Title: PORSCHE DESIGN DRIVERS SELECTION (Catalog)
Year: 2010/2011
Condition: Used
Description: Original U.S. catalog PORSCHE DESIGN DRIVERS SELECTION for 2010-2011. This catalog has 152 pages plus softcovers all showing merchandise in full-color photos with descriptions including prices. High quality paper and printing. Includes sections for:
FASHION
SUNGLASSES & WATCHES
CHILDREN'S FASHION & TOYS
SPORTS ACCESSORIES LUGGAGE & LEATHER ACCESSORIES
LIFESTYLE ACCESSORIES
MODEL CARS
Interior pages are as new; covers have postmark "stripes" from mail through the postal service. Closed the catalog measures approximately 6" x 8" and is more than 1/4" thick.
Auto-Themed Clothing & Accessories
Vintage Paper Collectibles