Miscellaneous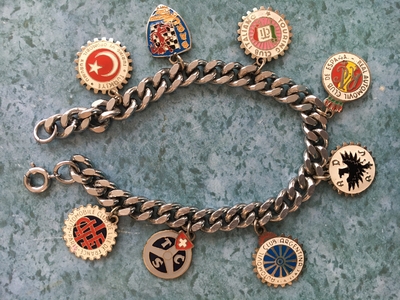 AUTO CLUBS CHARM BRACELET #5322
Price: $250.00
Qty:
Add to Cart
Title: Vintage Bracelet with Auto Club Charms
Date: Exact age/history unknown.
Size: Bracelet length: approx. 8"
Charm diameter: approx. 0.5" each
Material: Silver-tone metal link bracelet with 8 enamel & silver-tone charms
Condition: Very fine with slight signs of wear.
Description: Lovely example of automotive jewelry. Bracelet is less heavy-looking, more feminine than appears in photo.


Auto-Themed Clothing & Accessories
Vintage Paper Collectibles